Firekeepers Spring Virtual Village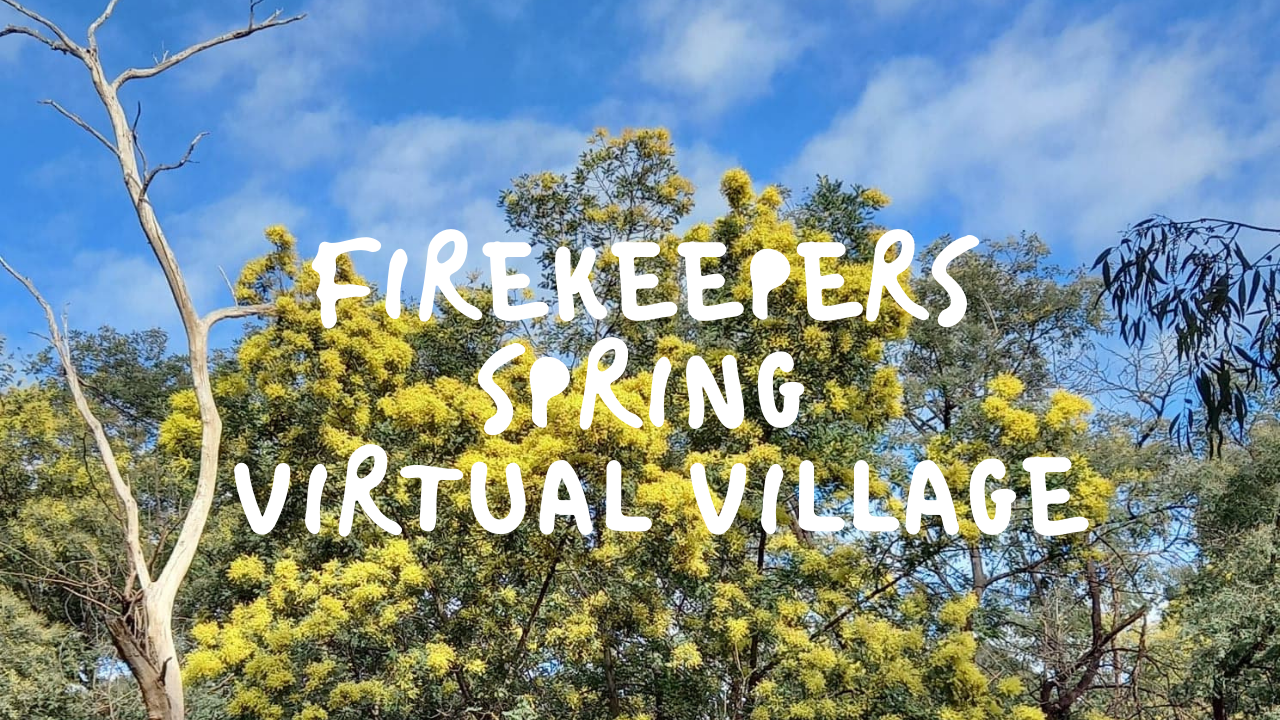 Tracker and Naturalist Jon Young says that keeping nature stories to yourself and not sharing them with friends, family or your community is like never developing the film from your camera. (Back when we regularly used cameras…and film). In the story telling and catching and deeper questioning, we get to develop and deepen our connection and curiosity.
During this lock down, we have been crafting weekly programs of nature connection activities to inspire you to get out into nature and then a space to catch your nature stories and deepen your curiosity and learning.
For many of us, especially those in Melbourne- Naarm, nature in whatever way we can connect with it, has become a balm and important support during the Covid 19 restrictions. Even when we can't be physically close to our human friends, there are always birds to watch near by, flowers offering their springy fragrances and a tree open for a hug! As well as fostering a deeper connection with nature, our mission is to build connection to self and community. We offer these gatherings to hold space for all of us at this time- to continue old and grow new community connections and build all of our resilience at this time where isolation and loneliness are rife.
In this series we will be delving into:
-Tracking with Claire Mosley and Mel Turnbull
-Birds & Life cycles with Claire Dunn & Katrina Roberg
-Nature Mandalas with Claire Mosley and Skye Mandozay
-Shelter Building with Steph Brophy and Ollie Fabinyi
-Steph Brophy will be our Storyteller in residence this program – weaving engaging and interactive stories and supporting other storytellers through the weeks.
All ages and faces (new and old) are welcome! We have babies to elders join, though it is geared towards kid's engagement. 🙂 Nature celebrates diversity, and so do we. You do not have to have been on one of our programs before to join in.
This is our second round of Firekeepers Virtual Village, we are grateful for and have incorporated feedback from our Winter Villagers and from our Virtual Village Camp held back in Autumn.
Read what have previous villagers said about the program?

"Virtual Village was a joy to connect with others who share our family passion of nature connection. Having other people talk so passionately about their nature connection experiences strengthens what i as a mother am bringing to my children. Being involved in Firekeepers programs creates a culture of excitement to be in connection with nature and community, that i can't bring to my children alone. It normalises and celebrates our deep joy of seeing a particular bird, finding an edible weed, a track or a scat." Parent

The Virtual Village was a delightful way to connect with friends new and old, and discover ways to spend time exploring nature. Meeting birds, finding plants, nature journaling, the magic of fire and the senses were covered in this incredible five week program. We looked forward to the weekly meeting and our hearts are filled with gratitude and love. I would highly recommend this program to families with young children needing an antidote to all the screen time that creeps into our lives.Thank you Firekeepers!" Indrani Perera, poet and publisher of the Pocketry Almanack
Details:
Weekly Email Invitations
An email is sent out when you register and then each Thursday. Inside are a couple of different invitations, via video and text- These are each designed to spark the varied interests of our village members – young and old. You don't have to do all of it, just what sparks interest for you. You have the week to participate in whatever way you want with the activity instruction (including … not- no judgement!)
Weekly Village Gathering 
We will gather on Zoom each Thursday during the series from 4-5pm to see each other's faces and connect. This will be a facilitated hour, It will look like:
Welcoming new folks, (before others arrive),
Welcome, Acknowledgement & Gratitude,
Singing together / Group game,
Break out rooms to share stories of the week,
Group report backs,
Announcements,
Story from our Storyteller
Preview of next week's activity
Closing song
and an option to hang out afterwards in a breakout room if you wish.;
* All activities are invitations and optional and though we would love to see your face, you can choose to keep your camera off if you would feel more comfortable that way.
Facebook Group
We have a group, for those who use Facebook, to share photos and stories from our adventures, as well as the Thursday gathering space. This was a great way to stay connected with the weekly activity last time.
We will also continue to be holding our Free Monthly Community evening spaces on Wednesdays via Zoom:
Wednesday Warble Song Circle
1st Wednesday/Month- 7-8:30pm
Singing together online can be surprisingly connective and lots of fun! Let's gather to sing some of our camp favourites and also some new songs – bring a song or two to share if you feel to! For adults and kids.
Village Heart Adults' Sharing Circle – Register separately here
3rd Wednesday/Month 8-9:30pm
A space for adults of the village to share from the heart, to bring yourself as you are and be with what is, to speak and be heard, to listen with curiosity and compassion. A space to deepen connection and understanding of one another.
Dates
Thursday – 10 Sept – FREE Community Village Gathering
Thursday – 10 Sept – Virtual Village bookings open and email invitation available
Wednesday – 16 Sept – Village Heart Sharing Circle
Thursday – 17 Sept – Weekly Village Gathering: Tracking with Claire Mosley & Mel Turnbull
Thursday – 24 Sept – Weekly Village Gathering: Birds & Life Cycles with Claire Dunn & Katrina Roberg
Thursday – 1st Oct – Weekly Village Gathering: Nature Mandalas with Claire Mosley & Skye Mandozay
Wednesday – 7 Oct – Monthly Village Song Circle
Thursday – 8 Oct – Weekly Village Gathering: Shelter with Steph Brophy & Ollie Fabinyi
Pricing and registration
Sliding scale $50-$150 per household for the 4 week block.
We are offering sliding scale payments in recognition that not everyone has the same means. We ask that you consider your means and your willingness to pay for this offering. The higher price points support us to be able to offer the lower prices, to pay our facilitators and to support Firekeepers ongoing. No questions will be asked and no judgments made about how much each participant chooses to pay. We also have some tickets available on a NOTAFLOF basis (No one turned away for lack of funds) and free spots for First Nations participants.
A sliding scale payment system is based on trust – thanks for bravely engaging in this experiment with us!
Note: If you would prefer to be invoiced for this event for NDIS purposes, please contact Mel directly at mel@firekeepers.com.au.