Spring Holiday Program- Online & Outside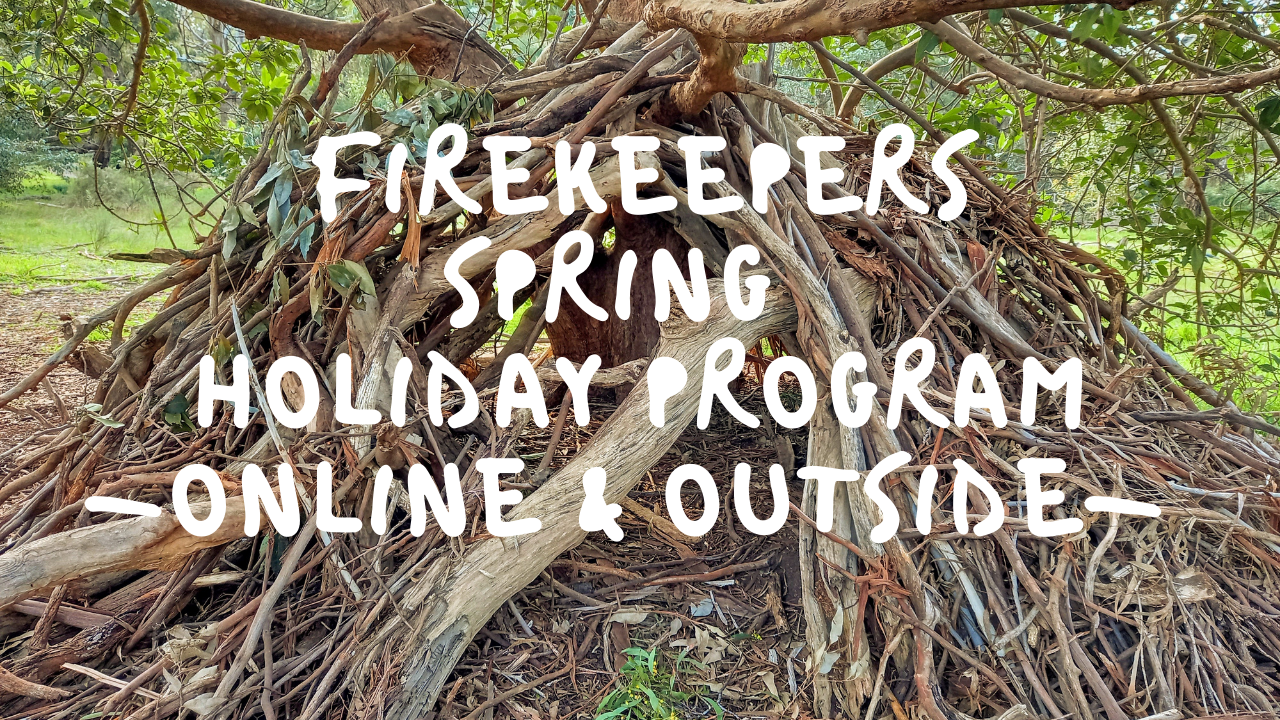 Finding it hard to peel the kids off the screens? Need a boost of inspiration and new ideas to get out into nature after our long winter? Want your kids to connect with other nature kids and mentors these holidays?
We are inspiring kids and families to get out and adventuring in nature these Spring school holidays during Covid 19 restrictions.
The sessions are designed for kids 5-12 (but they are universal passions, so siblings and family members of all ages will likely enjoy being involved during the day).  Ideas and suggestions in the morning will help the kids find their own sense of agency to create this adventure for themselves, hopefully with less help needed from parents.
Our online and outside program will include:
A 30 minute Morning session on zoom with a small group of kids (max 10) and 2 experienced nature connection mentors. Here kids will meet each other, play games, learn new skills and receive their nature play mission for the day.
9 – 9.30 or 10-10.30*
AND
A 30-45 minute Afternoon session on zoom with the same small group and mentors, where we each child will have a chance to share their story of the day, have it caught and deepened by nature connection mentors. They will see each other's magnificent creations and seed new explorations for the rest of the week.
2-2.45 or 3.15 – 4pm*
*Depending on popularity, we may run 2 small groups each day. If we do we will break the kids into older and younger age groups. We will confirm your session time (9am +2pm or 10am + 3:15pm), the day prior to the event.
Week 1: Exploration and Mapping 
Tuesday 22nd Sept
Group 1: 9am +2pm
Group 2: 10am + 3:15pm
Mentors: Claire M & Katrina

Join us for a day of exploration, mapping, and creativity! A day to deepen our relationship with our local areas and to explore what is special for us.
We will be tuning into our nature super powers, to find out what unique places, creatures, and other magical secrets inhabit our local areas.
If you can't access a local park within your 5km, then this Mapping Day/ day of exploration can be experienced from your window, your backyard, your street. All options will be full of opportunities for creation!
You will need : basic art materials including paper and things to write and draw with.
Week 2: Cubby and Shelter building
Monday 28 Sept
Group 1: 9am +2pm
Group 2: 10am + 3:15pm
Mentors: Mel & Claire M
Building shelters connect kids with a sense of identity and place. But shelter building also involves connecting with the landscape, with concepts of history and science.. and it's loads of fun!!
Can you make a shelter that would keep you dry from what you can find around you? How about a model one? How can you make a cosy home for yourself or for imaginative play/ Or a survival shelter? Or somewhere to camp out for the night? Will it pass the storm test?
This Shelter Building Day can be experienced at a local park, in your back yard or even in your living room (perhaps not the storm test!). All options will be full of opportunities for creativity, play and engineering!
You will need : we will help kids identify the potential equipment and materials they have at home or in their backyard or local park, being mindful of environmental impact. They may also want the use of a phone or camera for taking photos of their creations.