Queer Wilderness Retreat: The nature of queerness and belonging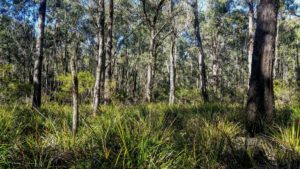 Nature reminds us that being Queer* is both natural and something to be celebrated! Showing up as who we are in our own unique queer form is a celebration of nature's diversity and honors our profound connection to the natural world and a deep sense of belonging.
Accepting the fullness of our queer selves is both a radical act of rebellion against forces of hate and division, and a radical act of communion with all living things. Now is the time to reclaim our roots and celebrate the gifts that our queerness brings to the world!
Come join us as we move through the seasons of our queerness opening to and honoring our full nature. This ceremonial time is designed specifically for the LGBTQIA+ community. This journey will have guided, intentional time on the land each day along with time gathering together in council to tell and witness our diverse and unique queer stories.
As one participant has put it:
"In sacred circles before, I have found an ally or two, another queer person who understands in some fundamental way some part of my story. But to sit in sacred space with an entire group that shares that common thread, that common understanding of shame and fear and celebration, that is a gift that I had no idea until I stepped into that space that my soul was craving." -Alicia B.
The retreat will be guided by Ruth Wharton and Pedro McMillan, experienced Vision Fast and Queer Quest guides with the School of Lost Borders. All guides and assistants on this program identify as queer.
LOCATION AND DATES: We will meet in the afternoon/evening of April 25th, 2020 at Trentham East, a 1 hour drive north of Melbourne. The program will end early afternoon on May 1st.
ENROLLING AND COST:
Tuition/Guide Fee: $975 AUD ($800 Concession) with limited scholarships available. A non refundable deposit of $350 is required and will hold your place.
Camping Fee: $60
Food not included.
Please email Pedro at pedro@pedrosplanet.com to enroll or enquire about scholarships. You can pay or put down a deposit through here:
https://events.humanitix.com.au/queer-wilderness-retreat-the-nature-of-queerness-and-belonging
LOGISTICS: Plan to bring a tent, sleeping mat and sleeping bag to 'car camp' and food for the entire program. We will often share meals so bringing things that can be shared is a good idea. You can also eat alone if you wish. There is a outdoor camp kitchen for your use.
GUIDES
Ruth Wharton:
Deeply rooted in earth, body, ceremony and a long lineage of guides from the School of Lost Borders, Ruth offers an abundance of love and fierce insight to those Ruth guides and mentors. Beginning to guide wilderness rites of passage at the age of 21, Ruth's experience spans over 2 decades, supporting over 1000 people of all ages through initiation practices. As a licensed professional counselor, wilderness therapist and guide, play therapist, and wilderness first responder, Ruth has worked in a variety of settings supporting diverse people in meaningful life passages. As a guide working with the School of Lost Borders for over 20 years, Ruth is also one of the founders of both the Women's Fast and Queer Quest. Being gender expansive and having a strong focus on social justice, Ruth is continually on the path of creating inclusive and accessible space for all people. Ruth continues to guide, offer trainings and mentorship in the Wild Mountains of Colorado and around the world. Traveling to support communities cross culturally, Ruth is continually learning from diverse landscapes and people inspired by our differences, earth based common threads, and shared humanity.
Pedro McMillan:
As an elder with long experience with rites of passage, Pedro brings a wealth of knowledge and understanding to teaching and holding space for those called to the land. Pedro has been a guide working with the School of Lost Borders since 2010 after nearly 15 years of participating, training and assisting programs with the School. Pedro's experience as a long time business owner and eco-entrepreneur gives him a clear view of the many challenges we face as modern humans and brings a strong and compassionate heart to rites of passage work. As a co-founder of the Queer Quest program at the School of Lost Borders, Pedro also brings an understanding of the need to create inclusive and safe spaces for marginalized groups and is committed to the work of social justice.
ASSISTANTS:
Local nature connection mentors and guides Mel Turnbull and Emily Steele have both undertaken training with Ruth and Pedro through the School of Lost Borders and will assist with this program.
This event will be held on Dja Dja Wurrung land. We pay respects to the Dja Dja Wurrung people, and their elders past, present and emerging. We acknowledge that sovereignty has never been ceded.
We also acknowledge our past present and emerging queer* ancestors and leaders of all cultural diversities, on whose shoulders we now stand.
*We recognize and honor that the word "queer" has been used in the past as a derogatory term and may still be hurtful for some in the LGBTQIA+ community. Many of us have reclaimed the word "queer" and this has been both empowering and uniting of the multiple identities within the community. We use the word here as an inclusive term and shortcut for the LGBTQIA+ lettering.