The Art of Storytelling: Practice and Play!
07/08/2020 @ 2:00 pm

-

04/09/2020 @ 4:00 pm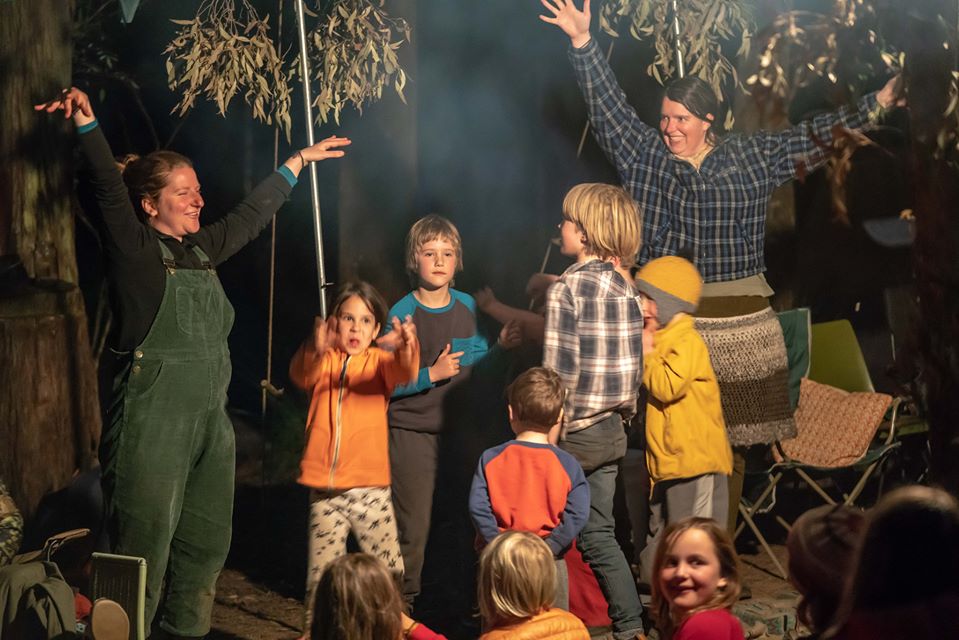 Have you noticed how a good story totally lights up a space? I have come to realise that storytelling at its best is very alive to the moment. Stepping into a story is like stepping into a great adventure. The storyteller, like the adventurer, has stepped out of known territory onto rocky, uneven ground, where each step is a conversation with the world. The teller, like the adventurer, must be alive to all that lives in the space.
I have also noticed, for myself at least, that having a space to tell a story or to express my creativity, can make me more alive to the world as I navigate life – on wanders, sit spots, in conversations with human and more-than-human beings, at work, while cooking dinner, wherever it may be… Having a space into which my creativity can flow often seems to make me more alive to inspiration in the world around me.
And I think we get better at things through practice and play. I want to practise telling stories with whatever ingredients are showing up in my life at any moment. I want to practise stepping off that ledge into the unknown territory of a living story. I want to practise stepping into the fear of the unknown, into the place where I must meet each moment with presence and aliveness. I want to play with story and creativity and see what flows. Sometimes it might be terrible! I might get lost in my mind, unable to find the flow. Other times, the magic of a truly alive story might flow forth and light everyone up!
Would you like to join me in exploring the art of storytelling in a space devoted to practice and play? No expectations, no judgments, a safe small-group space to play and explore the place where the imagination meets the world.
When?
Fridays 2-4pm starting 7 August.
We will gather weekly for 4 weeks and see what emerges between us!
Cost:
Sliding scale from $40 to $120 for 4 sessions.
If you're keen to join, and this cost is prohibitive for you, please be in touch with Steph at steph@firekeepers.com.au.
Structure:
We'll start with a short check in, followed by some sort of story/imagination warm up, then there will be space for 2 or 3 people each week to tell a story. You can bring a pre-prepared story or just some ingredients or sparks of inspiration. Or you could come totally empty-handed and see what emerges on the spot! I have a belief that we may realise that there will always be little sparks in there waiting for a place to show up, no matter how unprepared or empty-handed we feel – I guess we'll find out! The only guideline is that you don't read your story from a page – you tell it and let it live… or fall flat. We will aim to finish with a brief check out to wrap up the journey we've been on together that day.
Who?
This is for you if you believe stories are magic and want to share your love of stories with like minded group; if you want to explore story and storytelling in space that is supportive, encouraging and playful; if you want to listen to stories from other explorers in the terrain of the imagination and feel able to be a non-judgmental, supportive audience; if you feel able to commit to coming along regularly so we can build a safe space over time; if you feel ready to step into discomfort and trust in process over outcome.
I mostly see this as a space for adults, but kids who are keen and able to engage in a way that is supportive, attentive and open to vulnerability are welcome. It's an experiment, so we can see how it unfolds.
About me:
I am Steph, a nature connection mentor who has been working with Firekeepers while delving deeper into my own relationship with nature over the past several years. I remember being captured by the magic of story around a campfire about 5 years ago, totally drawn in as the teller wove their tale. Since then, I have been on my own exploration with story, tiptoeing around the edges at first, but going deeper with time and occasionally diving right into the depths! I am not an expert, not a "master storyteller," but a lover of stories, a lover of the spell that is cast by a magical tale and a consistent apprentice to the art of storytelling. I am curious about how storytelling interweaves with our connection to nature, as well as to self and community. I believe we're all born storytellers, and I'm excited to continue to explore how we can uncover and open to that part of ourselves.