International Mud Day Celebration
29/06/2017 @ 8:30 pm

-

11:00 pm

$20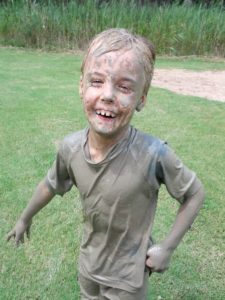 "Mud. It seems like a nuisance, doesn't it? As soon as it rains, mud is everywhere, and it literally gets all over everything. There are definitely no benefits this slippery, sticky dirty substance could offer, right? Wrong. And the creators of International Mud Day are out to prove it! After all, mud is quintessential to the outdoors, and the outdoors mean fresh air and exercise, two of the best things for people. And so what if we get a little dirty? Plenty of research has shown that coming into contact with a certain amount of bacteria is good for us, as it helps build up immunity, as opposed to living in a virtually sterile environment, which makes our bodies very vulnerable. Not to mention how many minerals mud can—there's a reason why people pay hundreds of dollars for mud masks and baths at spas. So what are you waiting for? Let's get dirty!"
This international Mud Day, come and squelch with us. We will be creating clay-based mud play and lots of muddy slippery fun!
$20 per family. Booking essential: www.trybooking.com/QKGL
Wear bathers and old clothes, Bring towels, bag and a change of clothes, a thermos of hot chocolate and a desire to have a lot of muddy muddy fun!!!
*Clay will be brought in for this event- and we need to be mindful of where we are. We won't be digging up and creating mud pits from the parklands. We will take care to respect other users of the parklands and keep the bathrooms tidy, so most cleaning off will have to happen at home*