Firekeepers Community Celebration Day!
13/03/2021 @ 11:00 am

-

3:00 pm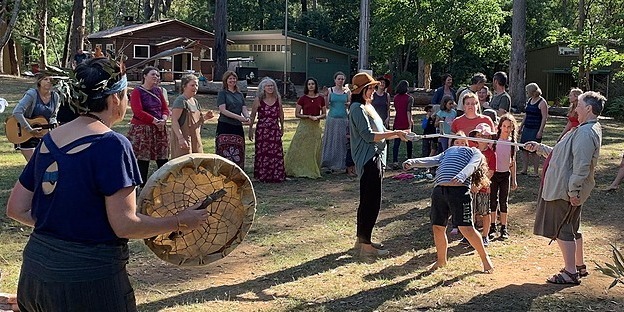 Let's all gather to celebrate what we love about Firekeepers! – Yes, let's!
Firekeepers exists to deepen connection with Earth, Ancestors, Ourselves, Community and the More-than-human. We offer these strings of connection forward to future generations.
It has been 5 years since Firekeepers began running programs in parks and wild spaces around Melbourne. 
In that time, we have:
 offered nature connection programs for kids, teens and adults, 

held 8 incredible village camps, 

transitioned to online virtual village events held community picnics, sharing circles and song evenings. 

 incorporated as a not-for-profit organisation, 

been supported by an amazing group of volunteers on the board of management. 
We have brought together, been supported by and learned alongside many many fantastic mentors, parents, kids, adults, teens, elders and babies.
To start 2021, let's gather together to celebrate the place Firekeepers has held in our lives.
On Saturday 13th March, we invite you to join us at Darebin Parklands. Yes! On (postponed) Valentines Day, let's share our love for Firekeepers and our relationships with community, earth and the more-than-human!
In celebrating what has been, we also look forward to envision the future of Firekeepers and this community. Firekeepers is built by community; each person brings themselves and their gifts into the spaces we share, and together we create something magical and deeply connective – greater than the sum of our parts. 
So let's dream together. 
As a community, how do we envision Firekeepers growing into the future? 
How can we do more of what we do well, more of the time?
How will the day look?
When?
**New Date!** SATURDAY 13th MARCH from 11am to 3pm
Where?
Darebin Parklands in the amphitheatre
Go to the end of Separation Street, where you will see a toilet block and a big old bench table. Just down the hill is the amphitheatre.
What?
There will be some nature crafting to start with and time to sit down and have a picnic lunch – chat, eat, connect, play, craft (some of our favourite things!)
We will all gather together after lunch at about 12:30 for a song and a game then split off into a couple of different activities:
We will have a facilitated group process- to share about our experiences with Firekeepers, some of our favourite things about this community and what we would love for ourselves and Firekeepers going forward.

Adventure! For kids who would prefer an adventure, we will head out with a few mentors to wander, play, practice our nature awareness skills and see what we discover along the way!
What to bring?
Picnic lunch and water for you and your family

A chair if you are not comfortable sitting on the ground

Hats, sun protection, what you need to feel comfortable in the weather

And if you have any of the following to contribute, that would be very welcome!

Picnic blanket

Bunting or other decorations to hang around the space

Drawing materials (esp. textas, crayons) and simple craft supplies
We will have a Covid 19 safe event plan in place. Please bring a mask and maintain social distancing. If on the day you are unwell with any symptoms, we ask that you stay home.
If you can't make the event, we still would really love to hear from you- Share your words with us here: https://forms.gle/JtHCGheiJtbufaDdA
Biig love, from your Firekeepers Board Mel Turnbull, Claire Mosley, Noel Bear, Steph Brophy and Kirsten Larsen