Wild By Nature Village Camp- Autumn 2020
30/03/2020 @ 1:00 pm

-

03/04/2020 @ 2:00 pm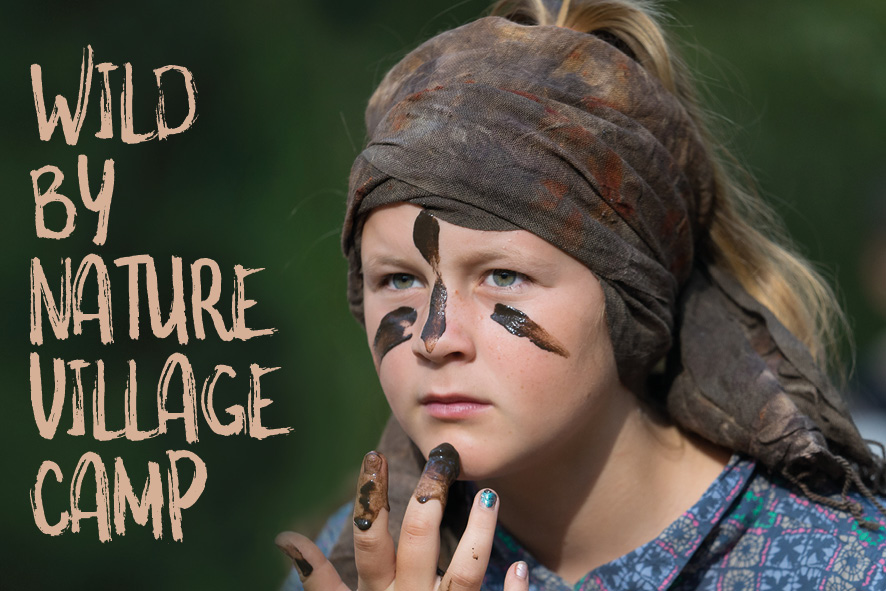 Are you ready to rediscover your inner wild? Do you want to immerse your family in the wonder and wisdom of nature while learning earth based skills? Do you want your kids to develop a deeper appreciation for living close to nature?
Join us this as we gather together to weave our very own village. Bring along your friends, kids, parents and grandparents to co-create a magical experience of connection, fun, traditional living skills and slowing down in a beautiful bush camp.
Some feedback from our camps:
"We left with a deep sense of belonging and community. A connection with earth, ourselves, each other"
"A most amazing, life altering experience for young and old"
"From 2 kids saying 'Do we have to go' to 'When is it happening again?- I don't want to leave!"
"We had a ball- learned heaps and would recommend to any family"
"Great way to get the whole family into the bush. Age is no barrier- Just prepare for fun!"
So…
Who is this for?
Everyone! This is a family friendly, drug and alcohol free event, with the program open to all. A true village embraces all ages and faces, we welcome diversity.
How does it work?
You arrive with your tent and camping gear to a warm bush welcome. For five days we will explore the natural world around us, create fire without matches, make baskets and other earth crafts, play games, share stories around the campfire, laugh and sing, and take a much needed breath of fresh air.
Each morning, kids, youth and adults will embark on their own adventures, each group exploring, playing in and learning from the natural world. While the kids (aged 4+) venture out into the bush with experienced nature connection mentors*, the adults stay closer around camp to learn earth-based skills and practice nature observation and awareness. Younger children (up to 3 years old) will stay with their parents/carers, with an optional 'roo and joey' program for them to participate in too. Alternatively, the young kids can stay with their adults while they participate in the adult program.
*All of our mentors have Working With Children Checks and qualified First Aiders will be on hand should the need arise.
Around lunchtime, the kids will return from their adventures and rejoin their families for lunch and a free flowing afternoon. There will be time for village members to play with new friends, practice their new skills, share their talents or just chill out. Some might wish to head off for a wander or take some quiet time to rest and relax.
What about food?
Each family or person will bring their own breakfast, lunch and snacks. There will be some space for campfire cooking, but it would be a good idea to bring your own camp cooking equipment.
Wholesome dinners* will be cooked on and shared around the campfire in the evenings, a space to share stories from our day full of adventures, sing songs and relax in the atmosphere of the tribe. After the evening program we will head to our swags for a restful sleep to prepare for a new day of fun and adventure!
*We are able to cater for omnivorous, vegetarian/vegan, gluten free and dairy free dietary requirements if notified on booking. If this isn't you, you will need to bring extra food to supplement.
Morning programs
For the kids:
Each morning with the camp mentors, children and young people (aged 4+) will venture into the bush to experience a free flowing exploration of the surrounding bush. The mentors will guide the children's play in a safe way and enable each child to connect with the natural world around them. We aim to create a safe space in which the children can listen to their own creativity. We will play games, immerse in story and song, wonder at the nature that surrounds us, find animal tracks, and learn wild skills such as fire, shelter and craft. Through this play and exploration, the kids will drop into a new awareness of the wild world around them, connecting more deeply with the plants, the earth, the animals, and with each other.
For the adults:
While the kids adventure out into the wilds, the adults will be invited on their own journey of learning and discovery. We will explore earth-based skills and crafts such as fire-by-friction, string making, coal burnt spoon crafting and basket weaving. We will also explore the Core Routines of Nature Connection through skills of observation and awareness, bird language and natural movement. The archetypal 'wild child' will come alive through games, nature play and connective activities. There will also be time to share and listen in circle.
For the littlies:
A Roo & Joey program is offered for parents and their children too young to head out with the kids. This is facilitated by a mentor and is flexible to meet the needs of kids under 4 and their parents. Sometimes the Roo and Joey group will be close to home base and other times they will journey out into the wilds. We are sensitive to the fact that the practicalities of camping with a toddler or younger child will probably mean that parents can't participate fully in the adult program, as parents with older kids can. We want to support these parents to come to camp and be a valued part of the village, which is why we offer the Roo and Joey program at a reduced price.
For the teens:
We will offer a varied program for teens in our village, which will change each camp. In January our teens went off together on an over night hike with experienced mentors. There will be a focus on skill development as well as connection to self, other, community and nature and the more than human. We will work toward holding rites of passage for the young people that we are growing in our village
Participation in all activities is optional – we encourage individuals to listen to their own needs and follow their own curiosities.
Bookings open now.
Early bird tickets available until Sunday 23rd Feb.
https://events.humanitix.com.au/autumn-wild-by-nature-village-camp-2020/