Currawong Kids – Home School Nature Club – Term 1
31/01/2019 @ 11:00 am

-

04/04/2019 @ 2:00 pm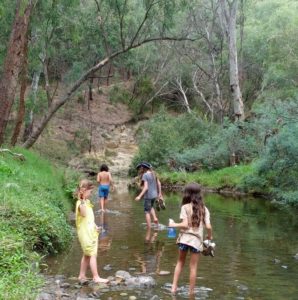 Are you a wild one? Join our nature club for home school and unschooled kids. Come share your natural curiosity with us next term. Weekly nature connection workshops for home educators: Thursdays 31 January – 4th April (10 weeks).
Wander through the trees, learn new games, practice your sneaking skills to get a closer look at animals, learn how to create and use fire, listen for the language of the birds, follow tracks, learn where to find food, paint with ochre and discover more about the plants, birds and creatures that share the city with us.
Aimed at 5 – 12 year olds, Currawong Kids is a nature club run for full and part time home edders. This child-led program is punctuated with fun games and activities and allows each participant to follow their curiosity and deepen their knowledge, awareness and connection to themselves and the world around them.
We run an all weather program. Bring a backpack with water, rain jacket, hat, lots of snacks and a picnic lunch for the end. Parent participation is optional, and while younger siblings may also attend for free, they will be the responsibility of their parents/guardians and the activities will be aimed at the older kids.
Contact Mel on 0421 343 073 for more details and to join us.
Prices:
1 child: $295
2 siblings: $495
3+ siblings: $595
Concessions and payment plans available
Through our nature clubs, workshops and family camps we provide opportunities for people to connect to each other, the natural world and a like-minded community. Children are nurtured to develop their enquiring minds and deepen their wonder and respect for the natural world.