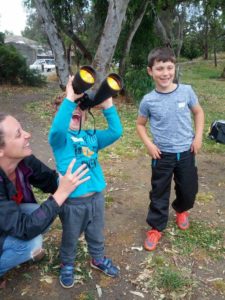 Wild by Nature Village Camp
Ready to be immersed in the wonder and wisdom of the wilds, to learn skills of living close to the earth, and share with others around a campfire under the stars at night?
Join with us for our Wild by Nature Village Camps and co-create a magical experience of connections, fun, traditional living skills and slowing down in a beautiful forested camp.
Who is this for? Everyone! While this is a family friendly event, the program is open to all. A true village embraces all ages and faces and we welcome diversity.  
For the kids and teens
Each morning, trained Wild Guides will take groups of kids and teens into the bush to explore and learn earth skills appropriate to the interests and abilities of each age group.
Ages 4-6: Mindfully supported Wild play and exploration of the natural world; an immersion in story, song, magic and wonder.
Ages 7-8: Wild play with introduction to bush skills and awareness.
Ages 9-12: Freedom to play and explore, and the invitation to participate in games and activities that develop key wild skills, awareness and natural movement.
Ages 13-16: Embrace their wild selves through guided games, mentoring and skill development (e.g fire, shelter, tools and crafts, awareness and movement and ecological knowledge). Challenges will build confidence, teamwork and a sense of accomplishment.
For the adults
During the mornings, there will be the opportunity to engage in a facilitated program for adults including earth skills such as fire, string and rope making, weaving, crafts; nature observation and awareness, bird language, natural movement, and more.
What happens in the afternoons?
Whatever you like! Children will be back in the care of their parents but the skills and games can continue, as well as naps, wanders and whatever else spontaneously arises. In the evenings the village comes together to share a meal, stories and songs from the day.
The whole experience will be contained within a natural and human community where sharing of stories, song, play and responsibility create the feel of a proper village.
I was looking for a way for my family and I to have some time to connect to nature and to learn some bush skills. Mel was able to facilitate this in a way that allowed every member of the family to be able to get something out of the nature connection camp. She was very good at gauging were my children were at and whether they were able to cope with certain activities. This made it very easy as a parent. –Katherine, family camp participant