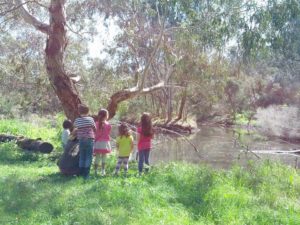 Firekeepers acknowledges that we meet play and learn on Wurrundjeri Country.  We acknowledge the Wurrundjeri of the Kulin Nations as the First Peoples of this land.  We thank them for caring for the land and the waterways and value the sharing of their knowledge and stories.  We pay respects to their Elders: past and present. We acknowledge the wisdom and rich traditions of the custodians of this land. We grieve the loss of culture and connection that has occurred in this country, and our collective loss as a result.
As firekeepers, we want to feed connection, to each other, the earth and to generations past and future. To keep burning the fires of traditional skills of earth connection and wild living. Through our nature clubs workshops and family camps, we provide opportunities for people to connect with each other, the natural world and a like-minded community.

We pay respect to all of our ancestors who have kept these skills alive and on whose shoulders we stand. We express gratitude for teachers who have passed these skills on to us, and respect their teachings.